Upload File Menggunakan Dreamweaver
July 9th, 2008 — whplus
Bagi pengembang situs yang menggunakan Dreamweaver, anda juga dapat sekaligus melakukan upload file ke server hosting anda, dan bisa di set akan melakukan upload otomatis ketika kita melakukan save file.
Artikel ini menjelaskan mengenai langkah-langkah untuk membuat preferensi koneksi baru dengan menggunakan Dreamweaver;
Pada Dreamweaver silahkan pilih Site > New Site; Akan terbuka windows tempat anda memberikan definisi koneksi tersebut seperti di bawah ini:
Pilih Advanced pada tab atas, Pilih Local Info pada Tab Samping, disini kita akan memberikan preferensi lokal (di PC Anda) terhadap definisi situs yang kita buat. Masukkan nama situs anda (sesuai selera) pada Site Name, pada Local root folder pilih direktori kerja / data di PC anda (dengan melakukan browse dan select menggunakan icon directory di sebelah kanan). Kemudian Pilih Links Relatif to Site root, dan masukkan HTTP Addressnya (URL) yang akan menjadi remote root anda (URL).
Kemudian Pilih Remote Info di Tab Samping, akan muncul tampilan sbb: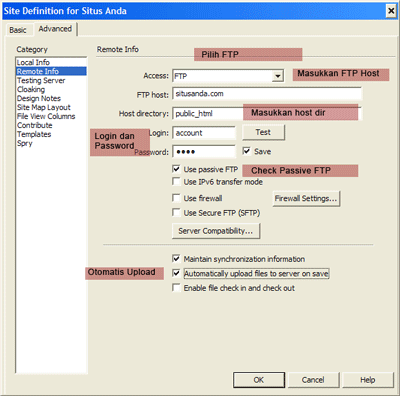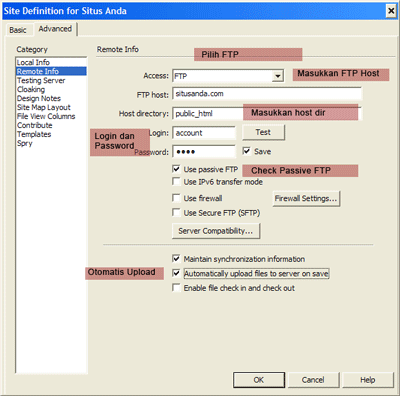 Di window ini anda akan memberikan preferensi yang terkait dengan Remote Host anda (dalam hal ini account cpanel anda). Pilih FTP pada Access, untuk FTP Host masukkan FTP Host anda atau alamat IP.
Kemudian masukkan host directory, tergantung anda akan melakukan pengembangan di situs anda, apabila situs yang ingin dikembangkan adalah root anda, maka masukkan public_html/.
**PENTING **

Masukkan data/file anda pada direktory public_html/ , karena kedua direktori itu lah yang akan bisa diakses oleh pengunjung situs anda.
Kemudian masukkan login dan password cpanel anda.
Pilih Passive FTP dan Automatically Upload File to Server on save, apabila anda ingin file yang anda edit akan otomatis terupload ke hosting anda ketika anda menyimpan file tersebut. Kemudian klik OK.